Make your way down to VivoCity, Central Court B between 21 – 24 May 2009 (Thu to Sun) and witness the Nissan Mega Roadshow extravaganza! The fiesta will showcase Nissan's stunning range of cars, including the Murano, Latio, Qashqai as well as the highly anticipated 370Z. Be among the first in Singapore to catch the debut of Latio and Latio Sport DS-R with their electrifying body kits.

On 23 May, witness the prize presentation at 8 p.m. for the Nissan Fuel Frugal Challenge (a drive up to Malaysia where Nissan Latio car owners compete to maximise fuel efficiency), and a rare opportunity to meet Nissan Racecar Driver, Tsugio Matsuda, who is here for the first time in Singapore. Seize the chance for once-in-a-lifetime photo opportunity with Tsugio Matsuda and get immersed in the thrilling world of racing at the Mega Roadshow.

Catch energetic hip hop street dance and spectacular break dance moves for a truly dynamic experience. Be part of the fun and engage in fringe activities like the "Peek-a-Model", "Shift_The Way You Move Nissan Jingle Creation", "Flash your Memory" and "Guess Who?" contests. Also, it will be an eye candy fiesta as Race Queens make their alluring presence felt at the event for electrifying photo opportunities.

Come, join us at the Nissan Mega Roadshow and stand a chance to win a trip for two to watch the Super GT Race in Japan when you book any Nissan model!

For more information, please call 6466 7711.
Thanks Jennis
Come on down to Books Kinokuniya Singapore for your great reading spree this May and enjoy 20% off* storewide at all Books Kinokuniya Singapore stores.
This promotion is valid only for Kinokuniya Privilege Card Members from 21st to 23rd May 2009 (Thursday to Saturday).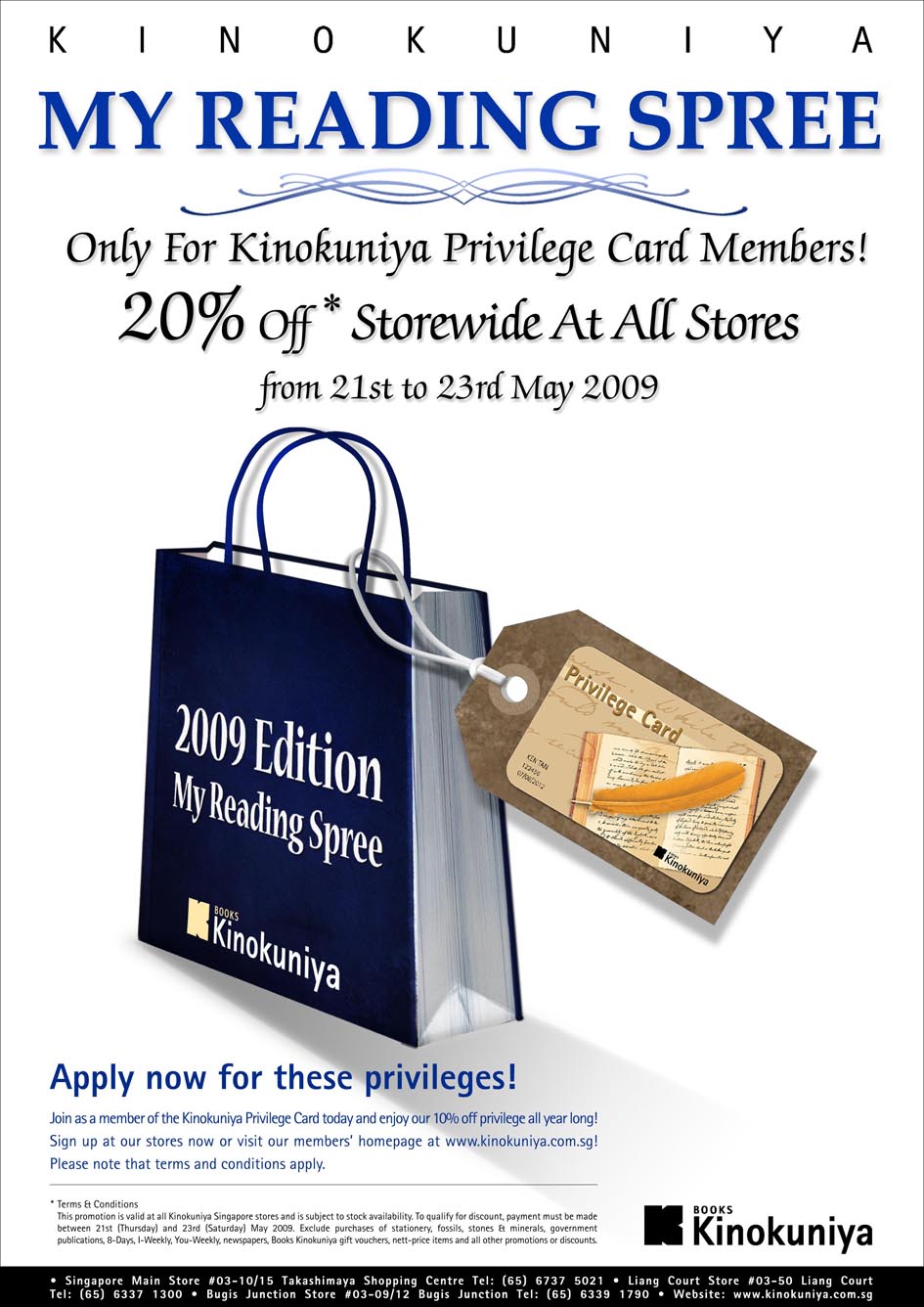 Note: Please be reminded that membership privileges will only be effected upon the presentation of the valid membership card in person to the cashier before payment.
---
New Email names for you!
Get the Email name you've always wanted on the new @ymail and @rocketmail.
Hurry before someone else does!
Men's Shoes & Bag Sale
From 22 - 27 May
Up to 50% off

Isetan Scotts, External Promotion Area, Level 1
The Apparel, Shoes & Bags Sale
22 May 2009 - 24 May 2009
Event type :
Retailer & Sales
Venue :
Singapore Expo, Foyer 2 Level 2
Admission :
Public - Free Admission
Event Schedules
: Time: 10am to 10pm
Show Profile :
Apparel, Shoes & Bags Sales
Organizer :
Beautiful Connections Pte Ltd
Contact Details :
Email :
joanne_cheong@singnet.com.sg
Billabong
From 22 - 28 May
Less 50%
Men's & Ladies' Apparel & Accessories
Ends 6pm on last day.
Isetan Scotts, Promotion Gallery, Level 3
Thanks Charlie!
please click here.
www.birdpark.com.sg Open daily 8.30am to 6.00pm
2 Jurong Hill, Singapore 628925. Tel: (65) 6265 0022
www.nightsafari.com.sg Open daily 7.30pm to 12.00mn
80 Mandai Lake Road, Singapore 729826. Tel: (65) 6269 3411
Restaurants and shops open at 6pm
www.zoo.com.sg Open daily 8.30am to 6.00pm
80 Mandai Lake Road, Singapore 729826. Tel: (65) 6269 3411